san fruttuoso
Between Camogli and Portofino, the Abbey of San Fruttuoso of Capodimonte is one of the most beautiful monuments on the Ligurian coast, hidden in a uncontaminated small inlet that can only be accessed on foot or by the small ferryboat that leaves the dock in front of our inn. Near the abbey you will find an ancient church with the Doria Family Tomb. Andrea Doria's family is the most important of Genoa, and they built the nearby defense tower that goes back to the 16th Century
In the waters in front of it the Christ of the Abyss rests, protector of divers and worshipped with a night mass on August 30. The Abbey of San Fruttuoso is property of FAI, (Fondo Ambiente Italiano - Italian Environment Fund) that is sponsored by I Tre Merli Inn.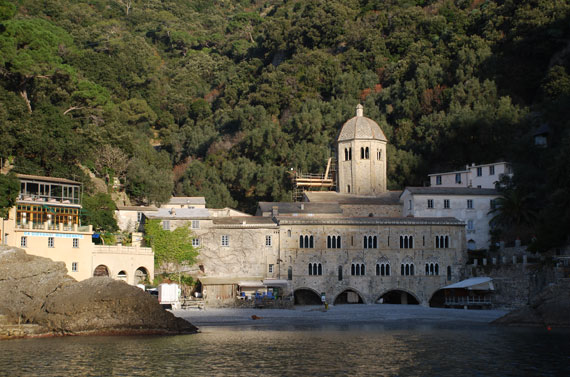 portofino park
The I Tre Merli Inn in Camogli is within the territory of the Portofino Regional Natural Park, a protected oasis that reaches Portofino itself, a magnificent town with colorful houses surrounded by vegetation of olive and cypress trees. A coveted spot and an enchanting place that has won over elite tourism because of its spectacular landscape, refined stores and delicious restaurants. A small paradise to visit!
For trekking lovers, many are the itineraries inside the Natural Park of Portofino; by feet you can reach also the Romanic Church of San Nicolò in Capodimonte, the Monastic basil of S.Fruttuoso, and the Sanctuary of Nostra Signora del Boschetto that are, together with the Church of San Rocco, religious buildings you do not want to miss. The first one, on the path that goes to Punta Chiappa, conserves a marvelous facade in bare stone from the 12th Century; the second collects the ex voto from mariners, and is located where the tradition says the Virgin Mary appeared.